There are many tricks you can do that will help you optimize the video. In a sense it can almost be like setting up the on-page SEO for a website.
Doing these simple steps will position you much better than your competitors who do not have these factors.
If they are on Google's first page then you will want to look at the following details:
• Age of Video
• Number of Videos in Channel
• Number of Views to Video
• Number of Video Likes
• Number of Video Comments
And How Well the Keyword is Optimized in the Video Including:
• Keyword in Title
• Keyword in Description
• Keyword and LSI keywords in Tags
Take A Look At The Video Optimization In The Example Below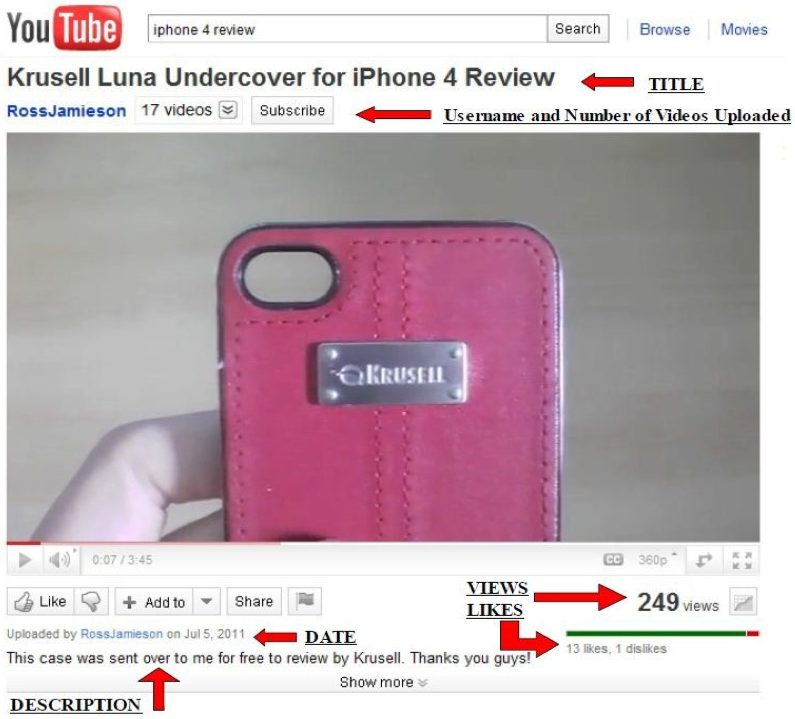 This video appeared in the top results in YouTube for the keyword "iPhone 4 review" As you can see it has the keyword in the Title but not in the immediate Description or Username.
It was uploaded in on the 5th of July here in 2011 and has 249 with only 13 likes. Below (not shown) is the comments section where it has 24 comments.
Even though there are 17 videos uploaded to this account, it should be fairly simple to outrank the video if you were optimized properly with the methods discussed in this course.
You will want to setup your video with the keyword optimized properly (as discussed previously). It is very common to outrank a video with more age and more visitors than yours if you are fully optimized for that keyword and they are not.
With that being said, you will still need to analyze the video carefully each time before you make your move and create a video.
Additional Video Optimization – Secret Technique
One final strategy for the best Video Optimization leverage is to include your target Keyword (or keywords) in the video Title.mp4 file before you upload to YouTube.
So after you create your video you can save that video file, or rename its existing name to your target keywords. You can also add additional content in the properties section of your video file.
Including LSI keywords and related content in the properties section of your .mp4 file is a dirty little secret that will help you rank faster and give you that extra advantage to outrank your competition!
To your video marketing success,
Paul