Now I'm going to be doing something different and reviewing my own product to give you a deeper look inside this new software program called My Traffic Jacker.
It's been in development for well over 6 months now so obviously I'm excited and a little biased in this My Traffic Jacker review, but my goal is to give you more information here so you can make a well educated decision.
What is My Traffic Jacker?
MyTrafficJacker is a brand new web-app that allows you to get Targeted Traffic and Authority from Wikipedia and YouTube so you can:
Send powerful link juice to rank website or videos

Send targeted traffic to ANY offer or link you want to make sales and commissions
OR you can even Flip these domains for a healthy profit
In the past my partner Joshua Zamora and I had released a software called Video Traffic Genie. Part of MTJ was inspired by the process that was used which allowed you hijack traffic from popular youtube videos.

I called this a video marketing shortcut because I was inspired to create this when ranking my videos and noticing a competitor had let their domain expire. Which allowed me to pick it up and earn $5510 in commissions from 1 abandoned domain (results above), placed inside of an already ranked YouTube video.
My Traffic Jacker Review & Demo Video
Wiki Case Study: How I Found a Domain Valued at $1042
After the release of VTG I released that:
a.) this method wasn't ever going away since YouTube is the #2 website (according to Alexa) and there's ALWAYS new videos being added and abandoned in ANY niche.
b.) this process could be WAY MORE POWERFUL
My Traffic Jacker vs Video Traffic Genie
Differences include:
Wikipedia for traffic and authority domain hijacking
Automatic domain availability checker w/ 1-click purchasing functionality
Fully web based - so you can access your MTJ account on ANY device and from anywhere that has an internet connection.
Saved Results - allows you to neatly compile and build upon your best results so you can create an army of targeted traffic in your favorite niches.
Scheduled Domain Reminders - if a domain is broken and abandoned but not yet available to buy, this allows you to get email notifications before and after your selected domain expires.
Automated Backlinks - allows you to automatically send powerful backlinks to rank your new video and web properties via social syndication. (offered as an OTO)
SubJackers - so you can create sub accounts and delegate the entire process (offered as an OTO)
And these powerful features included as bonuses:
Bonus #1: Daily Views Video Tracker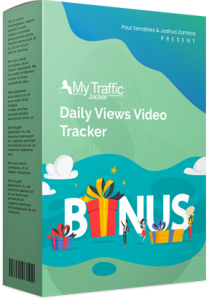 How would you like to know EXACTLY how many views a certain video is getting on a DAILY basis? This is VITAL especially when hijacking a video that may be a couple years old with hundreds of thousands of views.
YouTube does NOT make seeing daily stats easy anymore, so we decided to build our own views tracker into MTJ so you can know EXACTLY how much traffic you'll be getting from the videos you'll be hijacking! 
Bonus #2: Auto-Search Update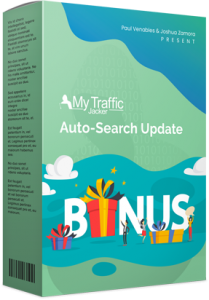 Automation is the KEY to being able to accomplish more in less time. This bonus allows you to do just that. With our Auto-Search update, you'll be able to have MyTrafficJacker automatically RE-CHECK keywords that you did NOT initially find expired domains for.
Why is this powerful? Domains expire EVERY day, so just because a certain keyword didn't bring back some expired domains TODAY, it doesn't mean there won't be domains expiring for that keyword tomorrow, or a week from now. With our Auto-Search feature, MTJ will automatically re-search your keywords on a schedule you specify! We could have EASILY made this an upsell, but you're getting it for FREE as a charter-member.
Additional My Traffic Jacker Bonuses Include: